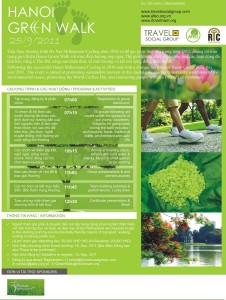 Location: Hanoi
Date: 25/09/2011
Organisers: RTC Vietnam, Travel Social Group, Action For Environment Organization 
Background
Conducted in the form of a green walking tour with all activities scheduled for the morning, participants are required to get to the starting point by environmentally friendly means of transport, walking, cycling or taking public bus. There will be two hours of pleasant walk through many selected vibrant streets of Hanoi with new friends exploring life, tasting foods, learning local architecture and traditional crafts, having fun shopping, taking photos and more. The walk finishes at a park with team presentations on assigned subjects, team building activities, music performances by participants coupled with soft drink and snacks…
We believe familiar things would turn out to be fresh and amazingly interesting as you walk and we are hopeful of a day we can truly live the city life without cars and motorbikes.
Objectives
The event is aimed at promoting sustainable tourism in the capital city, raising community awareness of the environmental issues, promoting the World Car-free Day and connecting people within a friendly environment.
Targets
200 people actively joined the movement of making a change for minimising the negative impacts to the environment;
1,000 people met along the walk have increase awareness of climate change