Footprint Vietnam Travel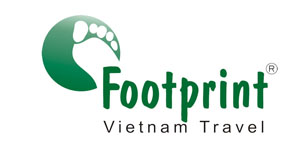 Footprint Travel has been running customised trips and travel packages in Vietnam and the Indochina
since 2001. We focus on ensuring "Local – Unique – Personal" travel experience, and promote
responsible and educational travel through our products.
Footprint has developed an extensive list of quality tours. We offer comprehensive packaged holidays
for small or large groups, off the beaten track adventures, community-based tourism products,
education and volunteering options. Footprint's diverse itineraries, specialising in biking and trekking,
are easily adjusted to meet our clients' travel preferences and give carefree journeys in Vietnam and the
Indochina Extension.
Footprint's mission is rooted in responsible travel. We have remained diligent in designing products that
benefit the communities we visit and activities that are environmentally friendly. As our tour options
expand, we are actively working with new communities to start new projects and partnerships. We
often choose the community or village that has the potential to develop further after the volunteering
activities, we feel that the development should be in continuity, where there will be other chances for
the community to carry on and our support will not be buried. Some of our projects include:
1. Community-Based Tourism in Chieng Yen commune (Son La province)
Together with RTC and with the technical support from the Dutch Development Organization (SNV), we
have supported 3 local villages Na Bai, Phu Mau 1, Phu Mau 2 on their community-based tourism
initiatives.
Status: Done, now using on our product.
2. Community-Based Ecotourism in Ngoc Son – Ngo Luong Nature Reserve (Hoa Binh)
This project is funded by Spanish Agency for International Cooperation and Development (AECID) and
Foundation for Social Promotion of Culture Spain (FPSC). Footprint's role is to make the proposal for
community-based tourism in Ngoc Son Ngo Luong and to partly implement the project like training the
locals at the homestay, guiding, etc…
Status: Done, now using on our product.
Other activities such as supporting the communities to fix schools, build traditional ovens, village paths
and community-based tourism training are occasionally planned and executed. In May 2017, together
with RTC and our partners, we participated in the Recycle Event in Hoang Su Phi – Ha Giang, in which we
helped to construct a 200 meters concrete road for the local ethnic minority here.
In 2016, our achievement of Travelife Certified has shown our commitment to sustainable travel. Since
2007, Travelife has been working on creating a more sustainable environment in the tourism industry by
setting sustainable benchmarks for its members. Not only did we manage to apply Travelifes' detailed
rules in a country that still needs improvement in sustainability, but we are also the first Vietnamese-
owned tour operator achieving a sustainability certificate.
Contact Information:
Address: No 30A, Alley 12A, Ly Nam De Street, Hanoi, Vietnam
Phone: 
+84-24-3933 2844
Email: [email protected]
Website: www.footprint.vn/ResponsibleTravel